Forsaken, Battle Born Book 2 releases on Friday, so I thought I'd give everyone a peek at book 3 as well. Here's the amazing cover art, supplied by Dar Albert. The blurb also reveals who the hero and heroine are and a bit about the challenges awaiting them. The book is available as a pre-order and November will be here before you know it, or at least before I know it.
Book Three — Pre-order your copy today (Releases November 18th!)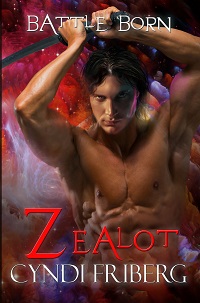 When a man claiming to be an alien walks into Indigo's wellness emporium, she isn't really surprised. She was raised on stories of a fierce alien race that secretly interacts with humans. Still, hearing the stories and coming face-to-face with an alien are two very different things.
Zilor Nox is sent to Earth to recruit a psychic healer, but he finds so much more in Indigo. She's wild, passionate, and genetically compatible with him—as well as seventy-three other warriors. He wasn't looking for a mate, but now that he's found her, he has no intention of letting her go. And there's no way he's losing her to one of her other suitors.
Indigo has spent most of her adult life downplaying her abilities, so when Zilor offers her the opportunity to help Chandar, a woman crippled by years of abuse, Indigo doesn't hesitate. But shortly after Indigo and Zilor leave Earth the "mating pull" ignites and neither can think of anything but indulging the fire. Even after the passionate interlude, Indigo insists her only purpose for leaving Earth is to help Chandar. Zilor is just as determined to prove they are destined to be together. Unfortunately, there are seventy-three other warriors with exactly the same goal.
Read an EXCERPT
Amazon (Kindle)
Apple iBooks (ipad, iphone, etc)
Barnes & Noble (Nook) Coming Soon
SmashWords (Kindle/prc, Nook/epub, HTML, PDF)