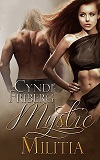 This is a bit ahead of schedule, but several of the retailers processed this book in record time. Mystic Militia is currently available at: Amazon (Kindle), All Romance eBooks (Multiple Formats), and Smashwords (Multiple Formats).
Just thought you might want to know. 🙂
Check out the series page for details about the Shadow Assassins series.