Book Four – Just Released!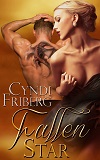 For those of you who haven't made the transition to digital, or just prefer to turn a page now and then, Fallen Star is now available in print!: AMAZON, B&N, and CREATESPACE.
Read an EXCERPT
Or download the eBook:
Amazon (Kindle)
All Romance eBooks (Multiple Formats)
Apple iBooks (ipad, iphone, etc)
Barnes & Noble (Nook)
Smashwords (Multiple Formats)
And for anyone who hasn't tried this series yet, Book One: Royal Obsession is still just $0.99! Download it at: Amazon, Smashwords, or All Romance eBooks.